The US$2.4 billion Venetian is scheduled to open on Tuesday. The hotel and casino complex is the largest building in Asia and the second largest in the world, as well as offering the world class leisure and entertainment.

'The Venetian will get new customers who are right now not going to Macau at all,' analyst Billy Ng at JPMorgan Securities said.

What is inside the Venetian Macau?

Source : Venetian Macau
Retail
* 1 million sq ft of retail space
* Over 350 specialty shops
* More than 30 fine dining restaurants
* 1,000 seat international food court
* 3 x 390 ft canals
* One external canal, 22,000 meter cube of water, equivalent to 11 Olympic pools
* 51 authentic Italian gondolas, with singing gondoliers
* Over 60 Streetmosphere entertainers
* 157 ft Rialto Bridge
* Connected by air-conditioned travelators to the Four Season Macao Hotel

Meetings, Incentives, Conventions and Exhibitions
* Total area of 1 million sq ft
* Exhibition space of 803,877 sq ft across 6 adjacent exhibition halls
* Exhibition facilities for up to 50,000 people and 5,000 booths
* Convention space of 163,957 sq ft
* 108 adjacent meeting rooms
* 198,391 sq ft of Event Center Space
* Maximum seating capacity of 15,000
* Theatre of 1,800 seats
* 30+ M.I.C.E. events booked prior to opening

Travel and Tourism
* The Venetian Macao Resort Hotel are located within 3 hours flying distance of 1.38 billion people
* The Venetian Macao Resort Hotel are located within 5 hours flying distance of 2.87 billion people
* Visitor numbers to Macao is increasing by 21% year-on-year
* The Venetian Macao Resort Hotel is located minutes from Macau International Airport which has a capacity of 6 million passengers per year
* The Cotai Strip to have dedicated ferry service from Hong Kong into new ferry terminal to have 8-10 berths by end 2008 and located within minutes from The Cotai StripTM
* The Venetian to run ten ultra-modern 400-seat high speed ferries from Hong Kong

Hotel
* Over 10 million sq ft of space - large enough to house 90 Boeing 747 aircraft
* 3,000 luxury hotel suites
* More than 30 fine dining restaurants
* 88,000sq ft. Health and Wellness Center
* World-famous night clubs and bars
* Connected by air-conditioned travelators to the Four Season Macao Hotel

Sports and Entertainments
* Event Center of 198,391 sq ft with a seating capacity of 15,000
* Event Center has multi-purpose state-of-the-art removable floor
* Event Center has world-class broadcasting facilities
* Event Center is linked to the 1 million sq ft Convention & Exhibition Center
* 1,800-seater theatre to provide venue for permanent Cirque du Soleil show
* World-class sports events arranged including tennis, soccer, basketball




全亞洲最大型的單幢式酒店, 世界上第二大的建築物, 二十四億美元的威尼斯人度假村在星期二開放。旅館和賭場建築大樓是在亞洲的最大建築物和世界第二個建築物,威尼斯人度假村會提供世界級水平的休閒和娛樂設施。

威尼斯人度假村更租下三艘噴射客輪,及動用十多架私人飛機、約七八架大型客機(包括可接載400人的波音747客機)接載香港, 國際地區的嘉賓出席開幕禮。 開幕禮吸引數以萬計來自世界各地的貴賓, 及逾1200名傳媒蒞臨現場採訪。

' Venetian 將得到不同的新顧客, ' JPMorgan 證券的 Billy Ng 分析師說。

開幕式表演中邀請了香港藝人譚詠麟、樂隊草蜢,台灣知名歌手張惠妹、陶喆、及外國樂壇經典人物Diana Ross等為晚會演出。

澳門威尼斯人各項特色設施包括聖馬可廣場、意大利總督府、鐘樓,以及三條設於室內的運河, 佔地100萬平方呎的購物中心 (超過350間高級購物商店, 20間高級食肆、咖啡店), 佔地55萬平方呎世界最大娛樂場包括870張賭桌及超過3400部角子老虎機 (分為紅、黃、藍、綠四色博彩區), 120萬平方呎的會議展覽場地, 亞洲最大的無柱宴會廳可為1萬5千名賓客提供膳食佳餚。

世界聞名的索拉奇藝坊 (太陽馬戲團) 將會駐威尼斯人劇院 (2008年初開幕, 設有1千800座位)

不同裝扮的藝人每小時, 每晚更有三人合唱團在廣場獻唱

貢多拉
大人:MOP$120
小孩:MOP$80

地址 : 澳門路氹金光大道
電話 : 2882 8888
傳真 : 2882 8889
電郵: inquiries@venetian.com.mo
網址: http://www.venetianmacao.com
房間數目 : 2874
套房數目: 逾3,000間
套房面積: 70平方米或以上豪華貴賓套房, 客廳與睡房分為兩層
套房內設施: 兩張特大單人睡床或一張超大雙人睡床,裝設帳篷,客廳,寛敞梳化床,特選睡枕及沐浴用品,全純棉三層混織床單,獨立浴缸及淋浴間,浴袍及拖鞋,熨斗及熨衣板,精選飲品及零食之迷你酒吧,兩部大屏幕電視,有線電視頻道/私人影院,行政辦公桌,私人保險箱,高速互聯網絡, 個人靜音傳真機/打印機/影印機,免費報紙,刷鞋服務

Source : www.flickr.com and taken by Ross 羅斯制造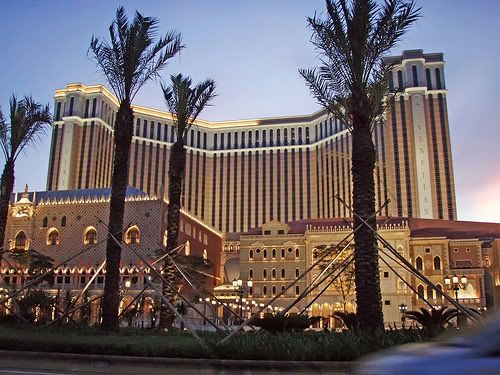 Source : www.flickr.com and taken by Christopher's world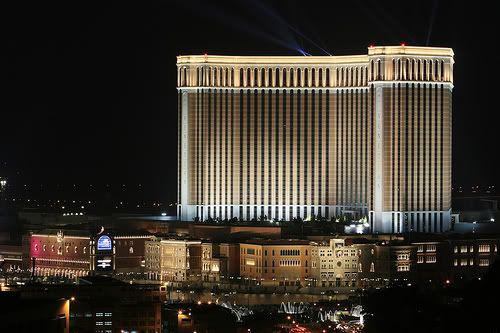 Venetian ups the stakes in Macau
Source : www.reuters.com


Source : Worldiki.com
The Second Largest Building in the World
Want to see Venice but can't go to Italy? See it in Macau! We will be traveling the world, filming our adventures, and showing them on Worldiki.com.

Source :
CNBC
The Venetian Macao

CNBC's Derrick McElheron takes a look at Macau's newest player, the Venetian Macao.
Source :
KOAT Albuquerque
World's Largest Casino Opens
The world's biggest casino is open for business. It's "The Venetian," in Macau. The complex cost $2.4 billion, which the owners say will be recouped in three to five years.
Mamajuana Venetian Macau
Food and beverage outlets located inside the casino
* Bar Florian
* Canton
* Red Dragon Noodles House
* Imperial House Dim Sum
* Bellini Lounge
The Construction and Opening Ceremony of Venetian Macau