Star Cruises announce its entry into the Macau market, through a service agreement with holder of gaming concessions, Sociedad de Jogos de Macau. The move will complete the plan for boutique hotel 'Resorts World at Macau', which includes a casino on the premises.
"Macau is the fastest-growing leisure, entertainment and hospitality market in the world," said Star Cruises chairman, president and chief executive officer Tan Sri Lim Kok Thay (pix). "With the presence of so many leading industry players in Macau, it is a further testimony of the need for us to build our strong presence there," he said.
"This project will complement our various hospitality developments in Malaysia, Singapore, the United Kingdom and the United States as we seek to capture and maximise each tourist dollar going into these destinations," he said, the project which is estimated to cost HK$4.7 billion (RM2.7 billion).
Star Cruises executive director William Ng said Macau will be a prime beneficiary in the large and growing market with the completion of this project. "We believe the project when completed in 2009 will further contribute to Macau's development as a world-class tourist destination," he said.
Source : www.nedcruise.info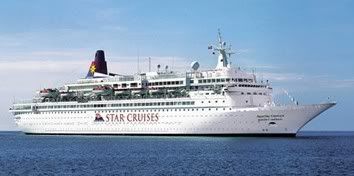 CNBC's Betty Liu talks to Alex Wong, Fund Manager at Shenyin Wanguo Asset Management

Star Cruises Coasts Into Macau
This 22 storey building site may turn into one of the SJM casino - L'Hermitage