To celebrate this year Dragon Boat Festival, the annual Dragon Boat Races will start on May at Nam Van Lake Nautical Centre. The duration of the competition is extended from 3 to 4 days this year. A special race is newly added this year - 2000 meter-round-goal competition.

Time: 10:00 a.m.
Admission free
Venue: Nam Van Lake Nautical Centre
Organizers: Macau Sport Development Board, China Dragon Boat Association
Co-organizers: Civic & Municipal Affairs Bureau, Public Administration & Civil Service Bureau

今年的澳門國際龍舟賽賽事由以往的3日增至4日, 增設了考驗耐力的二千米繞標賽項。

時間:5月31日、6月1日、7日及8日上午10時開始
免費入場
地點:南灣湖水上活動中心
主辦:體育發展局、中國澳門龍舟總會
協辦:民政總署、行政暨公職局

Pic Source : www.flickr.com and taken by b8b8ng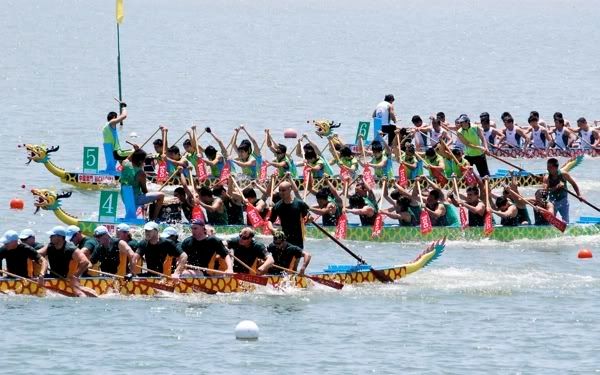 The Macau Selection Team won the bronze medal (finished in 1:55.63) in the 500 metre Open Category of International Dragon Boat races, with First and second place went to China's Nanhai Jiujiang and Yunnan SJM teams. Cocal team Corpo de Bombeiros finished in fifth.

Macau Selection Team finished in fourth in the women's category.