The proposal design of the InterContinental and Holiday Inn Hotel at Cotai Strip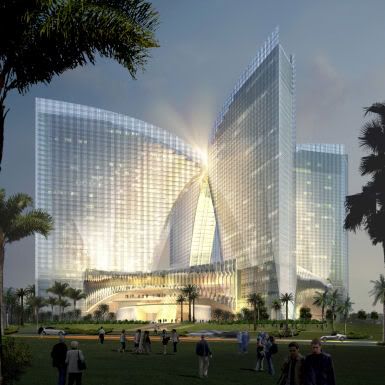 Website: worldarchitecturenews.com

Gensler's 7.5 million sq ft project, consisting of 4,000 hotel rooms, 200 residential units, casino, retail mall, convention meeting rooms, and theatre, CASINO! pushes the current trend of casino resort design to a new level of contemporary architecture.

The building's form is a response to the programmatic challenges given by the client to keep the interior casino space column-free, and to have a bold, memorable presence on the main strip. Historically, casino forms have been driven by an attempt to keep the gaming space open. This has led to a formulaic architectural diagram: placing the casino in the center and pushing hotel towers out to the periphery. CASINO! completely redefines this casino design formula by creating an "X" shape in plan directly over the gaming space. The towers pull away from the perimeter edge of the site, thus setting back the main mass of the building from the strip. This has the dual purpose of creating a more dynamic perspective from the strip, while simultaneously acknowledging and embracing the park directly across the street.

To keep the interior gaming space column-free, the towers push up in the center, creating two 80-meter tall arches that span over the casino / retail space below. To expose the tower legs, the podium is cut back from the site edge, carving out a smooth concave form to meet the strip. The entire project, both interior and exterior, seeks inventive, bold architectural moves.