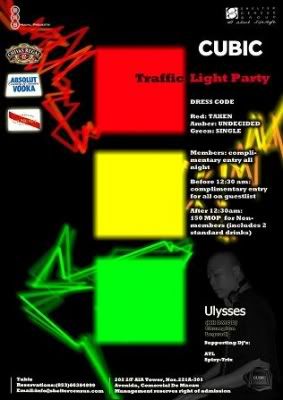 Time: Saturday Night, 19th December
Location : Cubic Club

Traffic light party is well known for its fun and kinkyness!!

How to dress: Wear RED if your TAKEN, YELLOW if you're a MAYBE, GREEN if you're SINGLE!!

Music:
DJ Ulysses is the 1st runner up in 1998 DMC mixing Championship and he is an experienced DJ in all kinds of Dance Music particularly in Hip-Hop R&B. He is a genuine music lover which he collects over 20000 vinyls.

He played in various popular clubs in Hong Kong like Dragon-I, Billion Club, Beijing Club, Hei Hei Club, Club No.9, Fly Bar, BlackRoom, Sugar, Azure,ZaZa Club, Armani Bar, HaHaClub, Queen Disco, Rooams Bar, L.O.S.T Bar, Liquid Bar, Club Ing, Pink Mao Mao, Rick's Café, Club Heat, Kee Club, Curve Club , Alibi Bar, Gene, Bier Keller Bar.

Now he is the Resident DJ in Dragon I & music director in Hei Hei Club (Guangzhou). His DJ path is so magnificent that he started playing Hip Hop R&B in Club Ing in 2003 followed by Queens, Hei Hei Club, Dragon I and Club No.9 and he also went to different parties in Malaysia, Shanghai, Beijing, Shengzhen and Guangzhou as a guest DJ. Therefore, he is good at controlling the Club atmosphere with his unique remixes and scratching skills.